yes, you read that right – luxe for less!
we all know i have "poshaholic" tastes but it isn't always possible to stay swanky with the 4 & 5 star price tags! well, since i've discovered HostelBookers, the budget travel specialists, my desire to take off on whim has become more of a reality! now i can direct my itchy feet to great, yet cheap, luxury hotels in my favorite destinations like London, NYC, Bangkok and Berlin. come take a gander at what i mean.
Comfort Inn Brooklyn Cruise Terminal
as much as i like to shop, eat and play in Manhattan, i find those exorbitant room prices disturb my beauty sleep, so i was delighted to discover this sparkling new hotel with incredibly reasonable rates only eight minutes away from the shiniest part of the Big Apple! the rooms are simple, but sweet, with the little flourishes like crystal bedside lamps, sleek computer desks with free Wi-Fi, flat-screen satellite TVs and personal coffee/tea stations. after my complimentary breakfast, i can set out for Manhattan by either taking quick taxi ride through the Battery Tunnel, hopping on the local subway at Carroll Street or climbing aboard the ferry at the Cruise Terminal. i love to come back to Brooklyn around sunset to ride the bus down Van Brunt Street to admire the view from the romantic Pier 44 Waterfront Garden before i return to my room to dress for my evening escapades.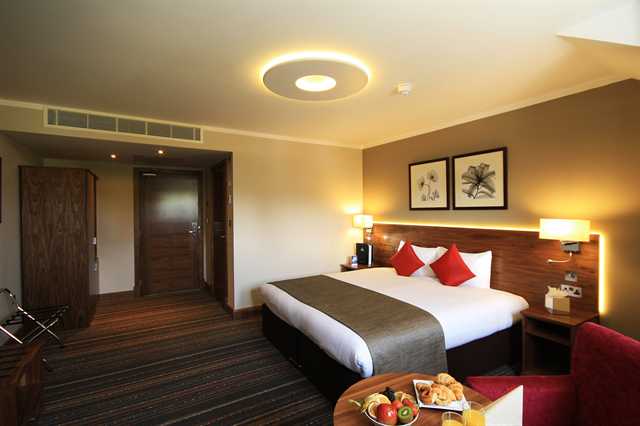 Best Western Palm Hotel
when i want to go incognito a few days, i fly into London's Luton Airport and grab the train to this darling neighborhood hotel from HostelBookers that's become my haven when i need to replenish my party-weary soul. the spacious, ultra-modern rooms have stylistic touches like sexy glass showers, dreamy inset lighting and crisp cappuccino-colored curtains. i like the top story rooms best because of the interesting skylights in the bathroom and over the computer station. with their 24-hour reception desk and round-the-clock room service, i relish slipping in during the wee hours so i can add that dash of intrigue to my real world escape. when, and if, i want to leave my cozy little sanctuary, i can walk over to the Golders Green Underground Station, checking out the current status of the historical Hippodrome, before heading out to explore Central London in my best incognito disguise.
Hotel Hoppegarten Berlin
every so often i hear the call of the wild, but don't want to stray too far from the cosmopolitan action, so i head for this classy little fringe hotel that gives me the best of both worlds.  although the hotel is surrounded by luscious nature reserves, Berlin's city center, Alexanderplatz, is only a 15-minute drive away. the stylish lobby, bar and restaurant are embellished with multicultural touches that accommodate an eclectic range of tourists, making it one of my favorite Berlin hangouts. i do love to take solitary walks and stretch my legs in the Erpetal Nature Reserve to see the little streams flanked by wildflowers. i also love to dress up and head over to the nearby Galopprennbahn Hoppegarten race track to indulge in some highbrow leisure-time and sporting events.
Best Western Mayfair Suites
the international flavor of this Bangkok hotel exemplifies the perfect blend of proper pampering and cultural immersion and the sleek décor of the ultra-modern lobby emphasizes that exotic minimalist beauty that draws me to the Orient. i begin with a workout in their beautifully equipped gym, followed by a long, soaking bath in my private tub before pillaging my mini-fridge for leftovers and my fully stocked mini-bar for treats. since i can walk to Bangkok's Pratunam shopping district, i've prowled it at all hours and discovered that some of the juiciest deals are available at the Night Market on Ratchawithi Road.
learn more about the great amenities at these cool budget hotels at Hostelbookers.com, the budget travel specialists!