Did you know that the FANTABULOUS hotel brand Four Season Hotels and Resorts is headquartered in Toronto, Canada? Yes, this über guest-focused luxury travel brand was born over 50 years ago in Canada! Four Seasons says it's "redefined luxury for the modern traveler". I couldn't agree more. More like spoiled us that we now have similar expectations for other luxury brands. Four Seasons, you raised the bar high and I like it.
It's true, I'm a BIG fan of the brand and have been so fortunate to travel over the last few years and get to experience many of the Four Seasons properties. I'm frankly in love. It is so amazing, the dedication the staff has to Four Seasons and, more importantly, to you as their guest. So, you can imagine how excited I was to go to Toronto and stay at the flagship property that just opened almost a year ago! The expectations were high and BOY were they met.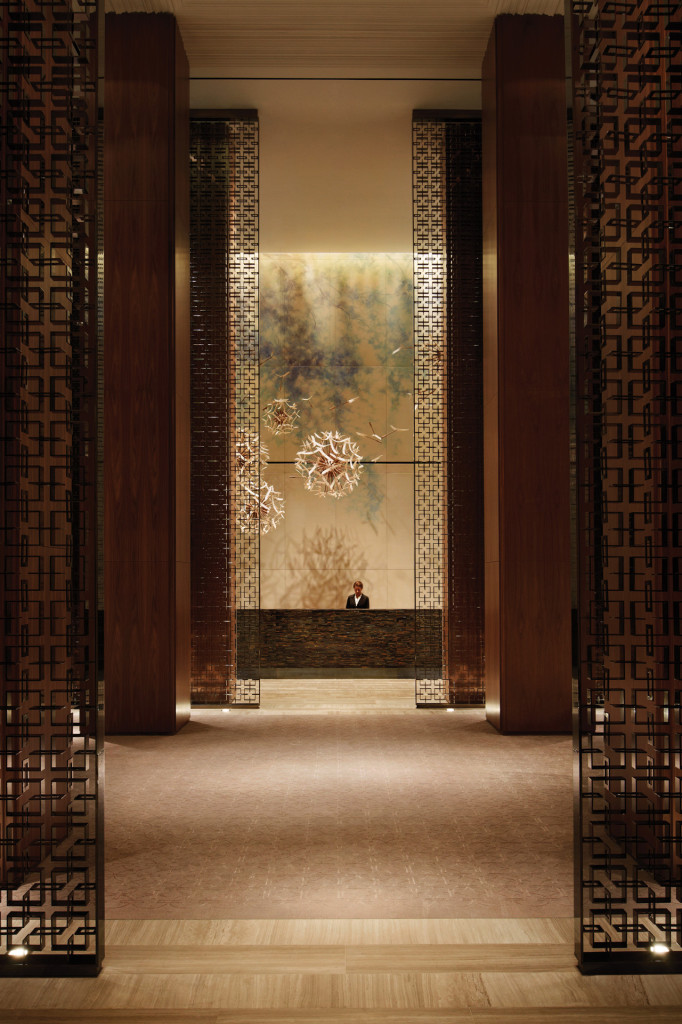 Please allow me to take you on a guided tour of this fantastic property. Starting when you pull up and the sharply dressed Four Seasons Toronto doormen collect you, your belongings, and then open the hotel door, you know you are stepping into something special. 55 floors and 259 rooms of sleek sexiness! Modern design and clean lines make it feel very zen. The professional front desk and friendly concierge that have been expecting you make you feel right at home. Personally, I loved the geometric repetition of the linking squares. Like we are all connected.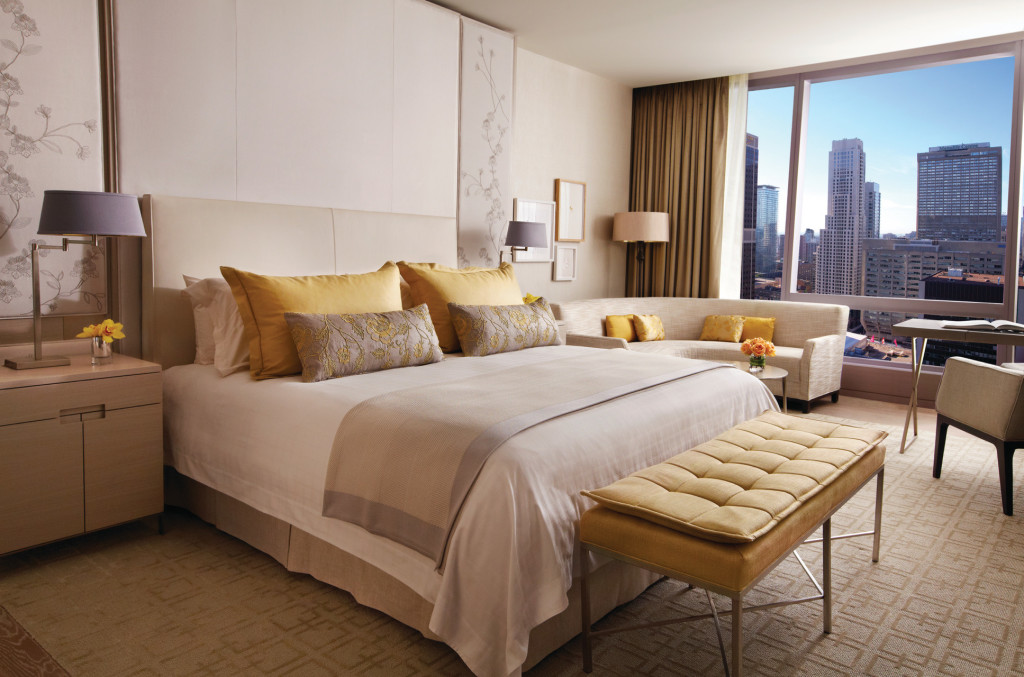 Check out the absolutely lovely bedrooms with city views of the posh Yorkville neighborhood. It's Four Seasons so you know it has all of the best amenities, like 24 hour service, a spa & salon, an indoor pool – which makes it enjoyable in any season, even a yoga studio! Four Seasons Toronto is located in the heart of Yorkville which means there are swanky shops, chic restaurants & bars and art galleries all around.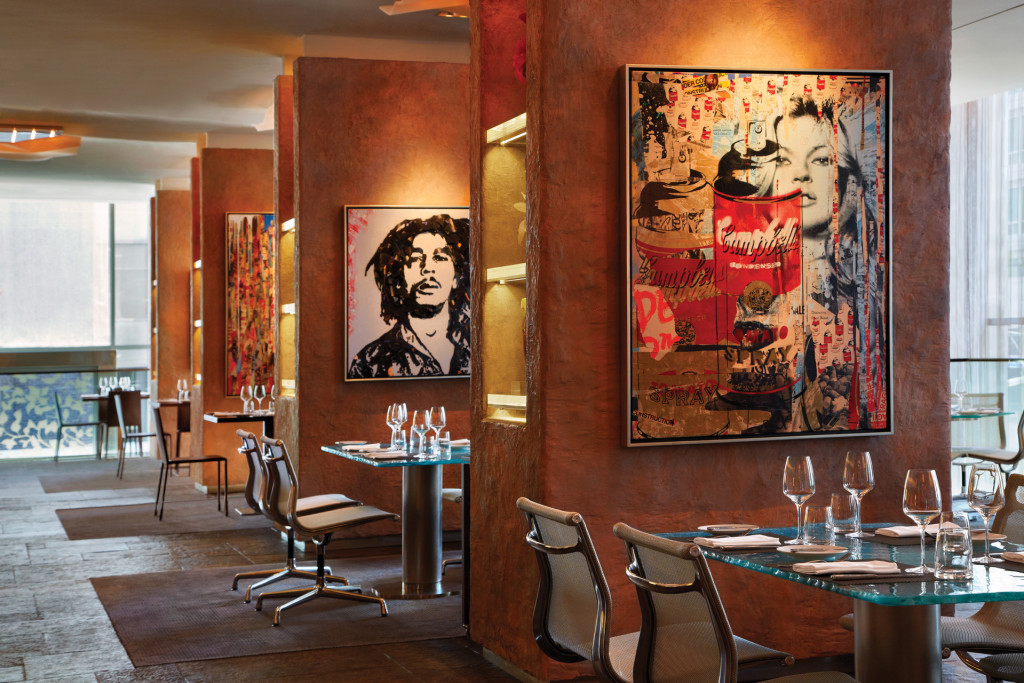 But you needn't even leave the property to find chic, edgy, cool spots to drink and dine. Here, at Four Seasons Toronto is the fresh, funky and French Cafe Boulud which offers a contemporary twist on French fare. Under the guidance of Michelin-starred great, Daniel Boulud, you can expect it to be nothing short of MAGNIFIQUE!!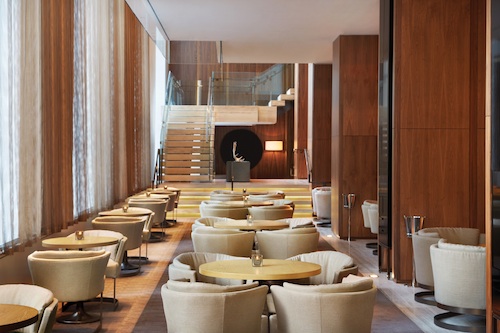 AND, a place where I logged some chill time, dbar! I loved their Neo-Negroni cocktail, because, as you know, I'm a Negroni aficionado. They describe this cocktail as confident, bold, brave & daring. Hmmm…sounds like something else I know. 😉 I was also introduced the Four Seasons super cool cocktail concept the #100MileCocktail while visiting Four Seasons Toronto. This is a locally sourced drink having all ingredients found within 100 miles or less of each Four Seasons property. Toronto's #100MileCocktail is The Annex and it's their playful twist on the Negroni. OK, I confess…I liked it too!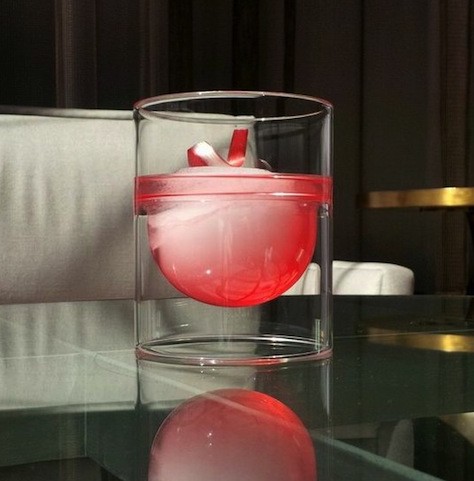 Great design, delicious food and tasty cocktails aside, my favorite thing about Four Seasons Toronto was the warm welcome given by the staff – smiles, notes, personalized amenities and the very important boa-fetching errand. Can you believe they actually went out and secured me feather boas?! Who couldn't love a property that is THAT interested in making you happy. I also, as always, LOVED the gorgeous floral arrangements all around Four Season Toronto. I have a true appreciation for flowers and especially when they are #lolapink like the ones seen below. STUNNING!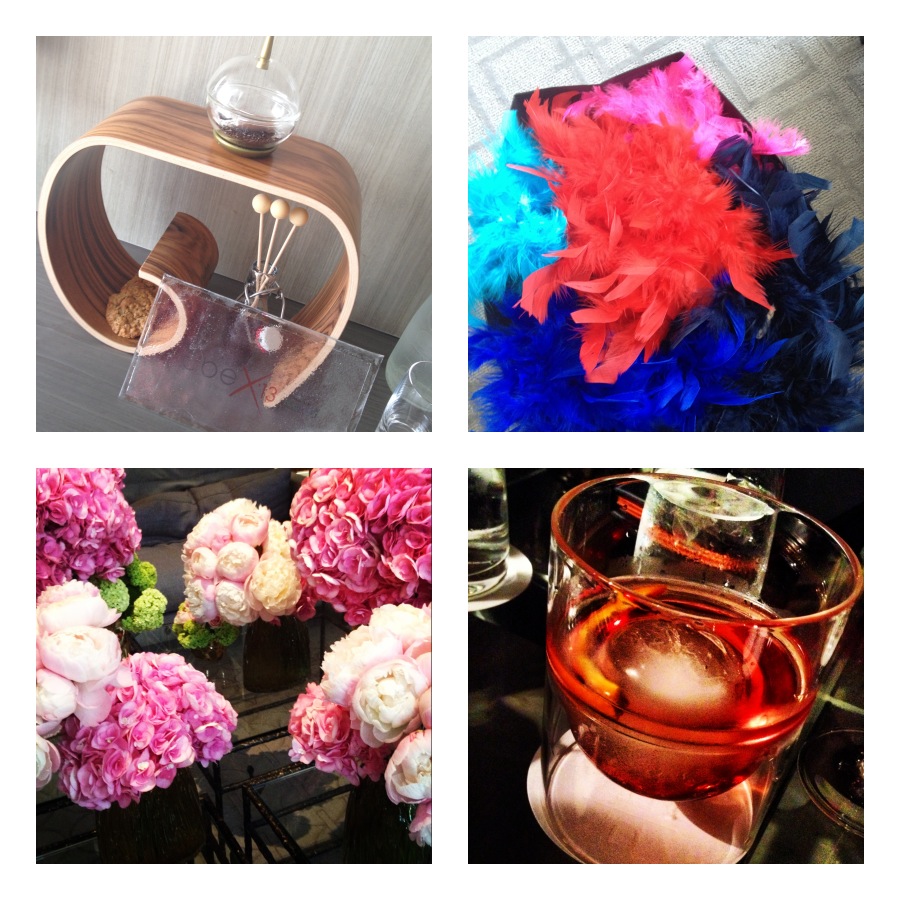 Four Seasons Hotels and Resorts must have immense pride in its flagship hotel. With more than 90 properties around the globe, Four Seasons Toronto has big shoes to fill but I think it wears those shoes like a super model in a pair of luxury designer heels!  The property echos the brand's "promise of a quality of life". BRAVO!!
PS – Four Seasons Toronto was awarded the prestigious Five AAA Diamond award. Only .3 percent of the 59,000 AAA approved hotels and restaurants receive this travel authority's highest rating.
Four Seasons Toronto graciously gave me a media rate during my stay. I was also treated to an unbelievable brunch at Cafe Boulud and this is something NOT TO BE MISSED! It's true, as admitted above, I love the Four Seasons brand but if I didn't 'Lola Approve' it, I would say otherwise.