A Culturally Rich Experience that is Dirt Cheap
At the beginning of the year I visited my sister in Bangalore India. Bangalore is pretty modern for an Indian city and is one of the fastest growing cities in the world. Known as the Silicon Valley of India, Bangalore is the country's IT/start-up hub. I felt it was the perfect intro into India as I saw all sides of things. I absolutely loved it. India is the most colorful chaotic place I've ever visited and that was just Bangalore.
Transportation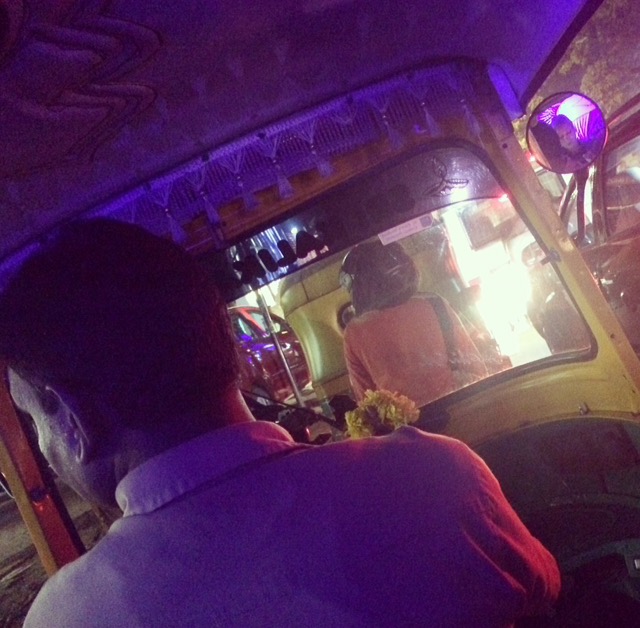 Rickshaw rides in India are a must. You DO have to negotiate prices so beware but it's still a very affordable way to get around albeit not the fastest or cleanest.
But guess who is in Bangalore too…Uber!! Can you believe it?! It cost me $1 for a 10 minute ride and $3 for a 30 minute ride. I kid you not! I have the credit card statement to back this up. Not only was it cheap, it made going from point A to point B so much easier because of their GPS App. Let's just say, getting around in Bangalore isn't totally straightforward.
Beauty and Fashion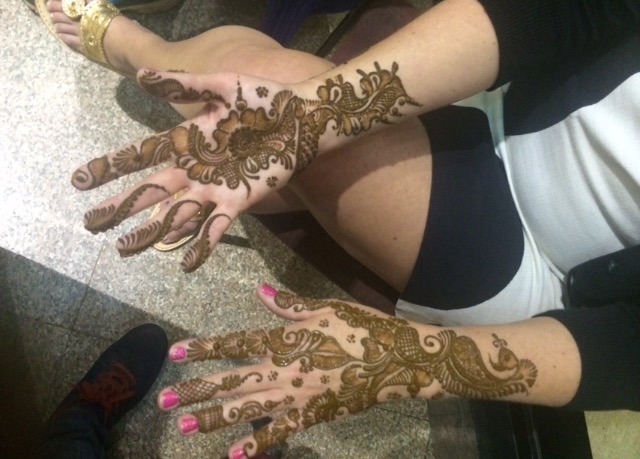 Other things I enjoyed on the cheap in India were a manicure for $4 and having henna on my hands and forearms for $10.
Another cheap indulgence in Bangalore is getting a sari made. I had one made and so can you for approximately $50-75. Next visit I'm bringing other clothes to copy and have made – it's so inexpensive!
My favorite shoes are sandals and this is one thing I definitely bought plenty of on Commercial Street for anywhere between $4-8.
Food and Booze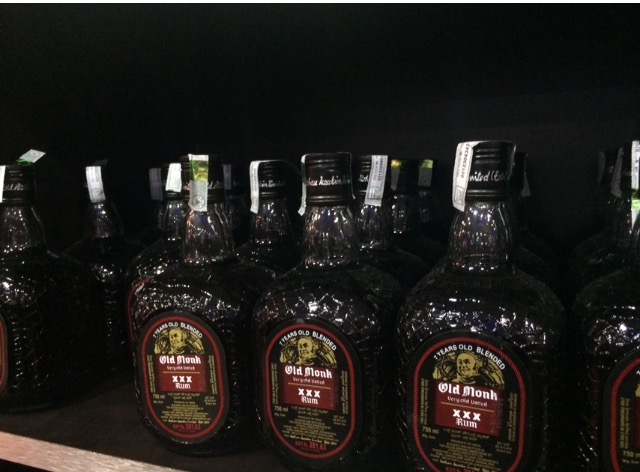 One of my very favorite types of dark rum just so happens to be Indian. As I stood in a liquor store baffled at which liquor I should choose, my sister's friend asked "do you like rum"? Naturally, I said yes and he proceeded to lead me to the altar of Old Monk! I was in literal heaven gasping out loud. A bottle was $4. I've never been happier with a booze purchase.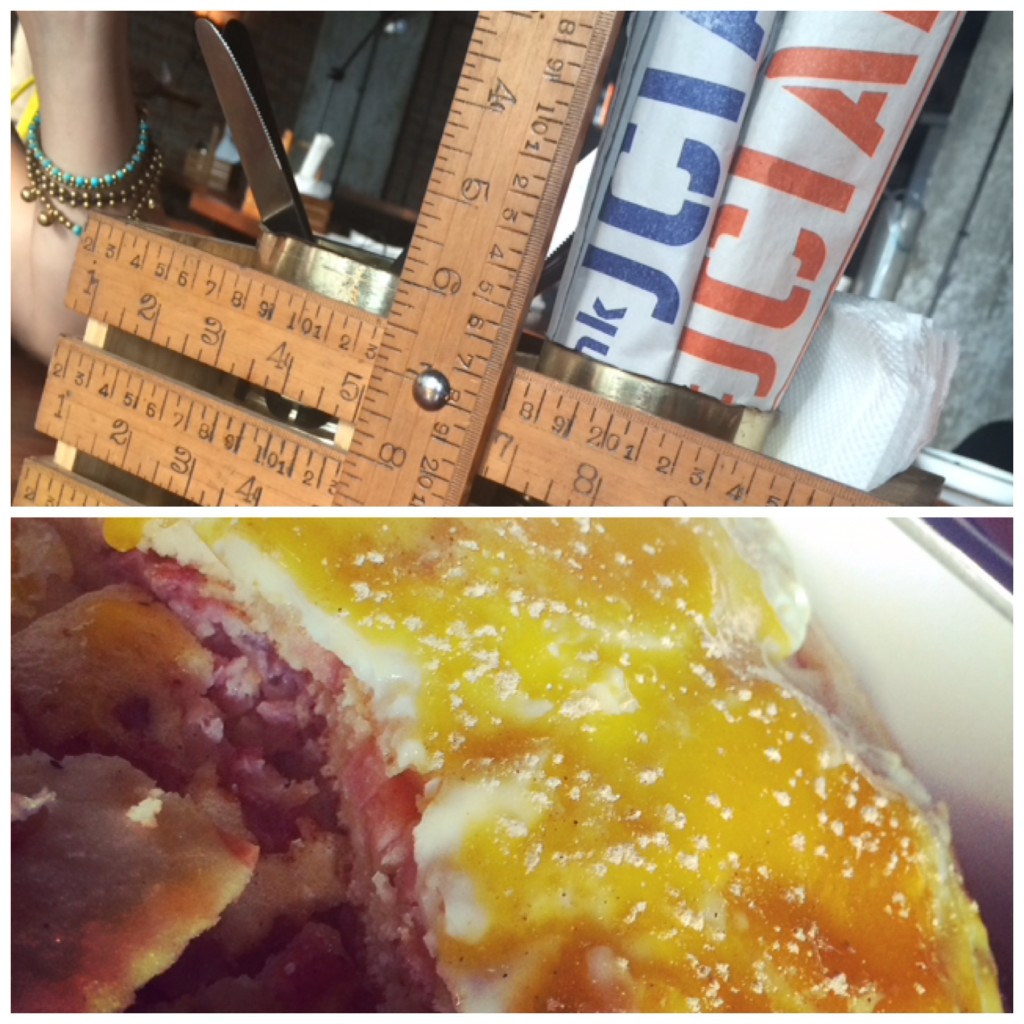 Dining out is also super inexpensive in comparison to loads of other cities. Bangalore has plenty of posh spots like Church Street Social. A no-holds-barred brunch there for my sister and me cost a grand total of $12. It is my favorite breakfast on record…who couldn't love bacon stuffed pancakes with eggs on top?! One evening we also hit up the trendy and fun Humming Tree where dinner & drinks for my sister and me was a whopping $25. Oh and there was live music!
Philanthropy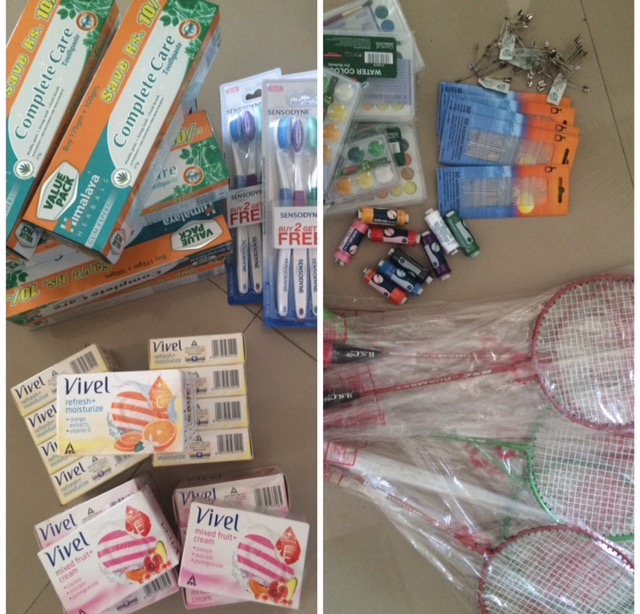 It's a bit of a passion of mine to try to do some good while traveling. Even in small ways. GlobeDrop helped me out in my visit to India. I discovered GlobeDrop through Twitter and quickly became obsessed. They vet out organizations that can use supplies in locations all over the world. They make it very easy, putting you in touch with these organizations and you can decide from there what you'd like to donate. I chose the Ashanilaya Orphanage in Bangalore. The orphanage shared a link to all the things they could use for their children and suggested buying it in country to give back to the economy. Truth be known, I didn't have room to tote all of the intended items around pre-orphanage visit, so this idea suited me. In addition, ALL of the things I donated cost me less than $100 USD and there is NO WAY it would have cost so little in the United States. Doing good felt great!
Culture
So now that I've proven how cheap Bangalore India can be, let me express how culturally enriching this trip was. As you can imagine, hiring rickshaws and getting services like manicures, henna and having a sari made means you have to mix it up with the locals. One lucky thing is that many Indians speak English but nonetheless it still isn't your every day interaction and I loved it very much. Indian people want you to be happy with their services by in large and they have such a pleasing way about them. You also get a glimpse into how these small business owners dress and eat. How they are curious about you too. I found India extremely open, friendly and accepting of tourists. I cannot wait to return and learn more about this country and their culture.
A Bit about GlobeDrop
GlobeDrop aims to be a global trendsetter when it comes to responsible travel, volunteering and global giving. We created this web app to make it easier for those who like adventure travel and giving back to places they visit.

Instead of money, adventure travelers give back contributions are made through in-kind donation. This is to directly provide for the tangible necessities of the organizations and to boost the community economy by buying the items from local merchants.