Amsterdam is such a beautiful city and a major gateway to Europe. I was thrilled to go there for my very first time in November for a girls weekend with Ana aka Mrs. O Around the World, Ashley, one half of The Lazy Travelers, and Mary Anne aka Editor of Jetset Extra. These lovely ladies would make any city visit a treat and did we ever enjoy ourselves in Amsterdam. But seriously, who wouldn't fall for the bicycles, pretty canals and old world charm this city offers?! While I did have some good ole fun in the Red Light District, the girls and I managed to also find some of the very best that Amsterdam has to offer. Listed here in my One Day Stay are my favorites. I loved Amsterdam so much that I definitely have it on my list to return and explore for longer.
DROP YOUR BAG
Located on Prince's Canal and just under 2 years old, Andaz Amsterdam is a 5-Star, 122 room boutique hotel that is fresh and funky. I particularly loved the lighting and pops of Delft blue throughout. Nearby, is the lively Jordaan district and the Nine Streets. So, you will find within walking distance art galleries, trendy boutiques and shops as well as dining and nightlife. We were treated to brunch at Andaz Amsterdam's Bluespoon and I had the very best cheesecake of my life there. Go for that alone if you cannot stay at Andaz Amsterdam.
DO
One of the most charming things about Amsterdam are the gorgeous canals. No better way to experience them than with a canal tour aboard a boat. The girls and I took a private tour on Ivresse, a saloon boat built in 1913 for a doctor. Unfortunately, the pretty boat, outfitted with a teak saloon and art-deco woodcarving, was too slow and taken out of service. (The name Ivresse means "weaving like a drunk") Private Boat Tours fully refurbished her and now up to 12 guests can enjoy cruising the narrow canals of old Amsterdam. Our captain, Yorick, was quite knowledgable and we enjoyed our hour-long tour tremendously.
DRINK
House of Bols is a unique "museum" where you will learn all about the Dutch spirit that's the world's oldest distilled spirit brand in production in Amsterdam since 1575. Not only is the House of Bols interesting but also so well put together. It makes learning about liquor FUN. You will discover the 38 Bols liqueurs, including Bols Genever, and, as part of your admittance price, you get to design your own cocktail at the end of the tour with the 'cocktail selector'. I went with the Dutch 'N Stormy since I love me a Dark 'N Stormy – it was a delish take on one of my favorites! PS – if you are a cocktail aficionado, House of Bols has an excellent gift shop for you.
DINE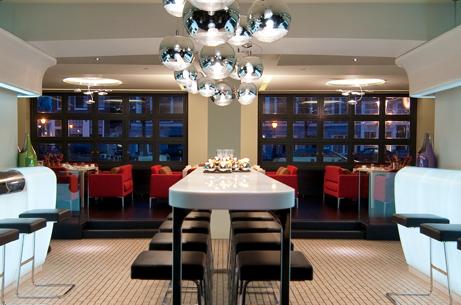 While I enjoyed all my meals in Amsterdam, dinner at Bridges in Sofitel Legend The Grand Amsterdam was beyond outstanding. One of Amsterdam's top restos that's Michelin-starred, Bridges offers seafood with an innovative twist of classical French gastronomy. We were treated to a tasting menu during our evening there. AND not just any tasting menu but 2 separate ones so that we were able to sample even more. Paired with delicious wines, I cannot imagine a more lovely evening.
While I booked my own trip to Amsterdam, the girls and I were treated to dinner at Bridges, the House of Bols experience (14.50€ value) and the canal trip with Private Boat Tours ($350 for an hour-long private cruise) All of these experiences were very 'Lola Approved' and highly recommended.