I was fortunate enough to visit Montreal in both the winter and summertime. Seeing this culturally diverse city in both extremes was amazing. Full of energy, Montreal has a thriving nightlife, unique dining experiences and more adventurous things to do – I just adore it. This 'One Day Stay' visit was extra fun since I traveled with girlfriends. Who couldn't have a great weekend with your pals in such a cool city that is Montreal?!
DROP YOUR BAG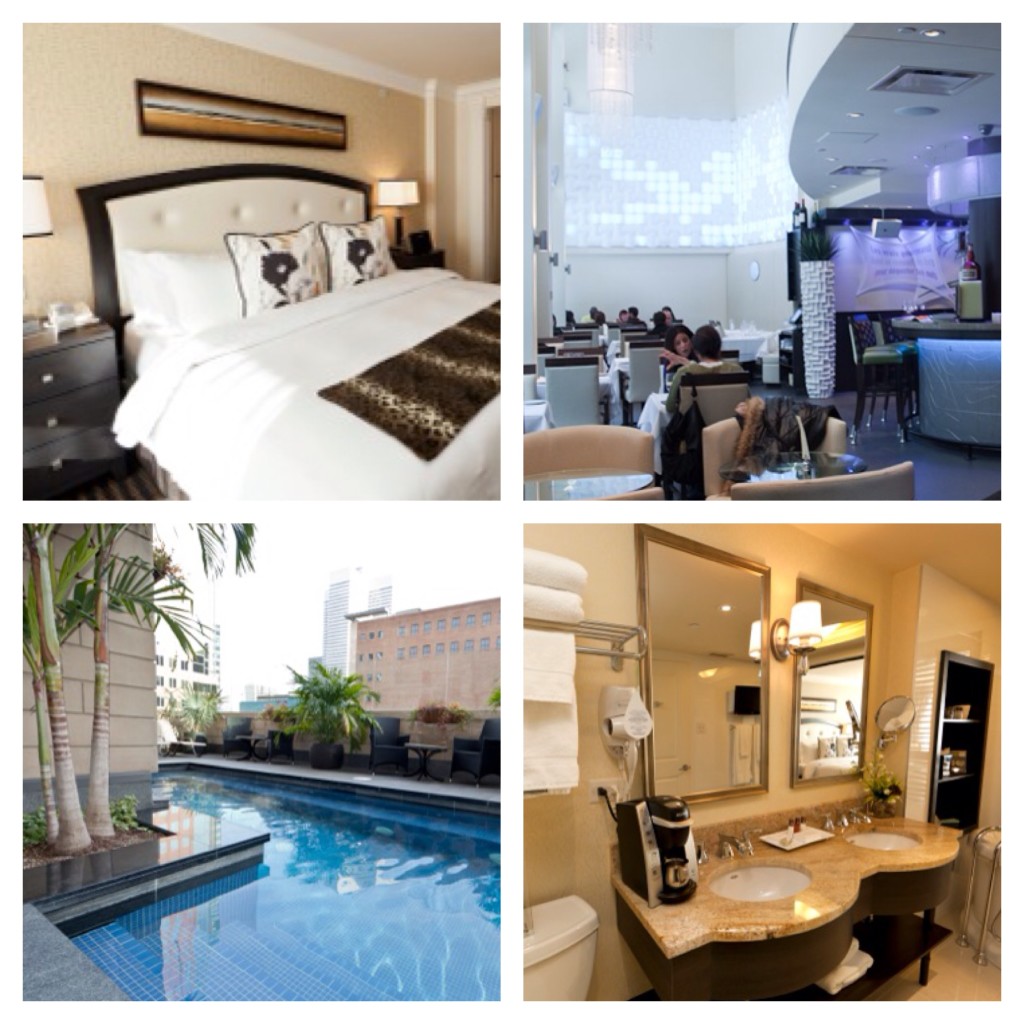 Le St-Martin Hotel Particulier is a contemporary 123 room hotel in Downtown Montreal and is a perfect mix of modern & comfort. Some things to expect from St-Martin are complimentary wifi (dream come true), Keurig coffee maker in your room and afternoon complimentary treats delivered to your door! The friendly multilingual staff will assist you in discovering some of the best restaurants, bars & nightlife Montreal has to offer. Also, onsite is a 24 hour fitness center and heated lap pool (available year round). Bistro L'Aromate serves up a delicious breakfast but also offers a mix of Mediterranean, Californian & Asian cuisines for lunch & dinner. I particularly enjoyed cocktails out on the terrace AND the cool lighting effects that change colors.
DO
It's not my first inclination to do something active on my quick getaways but I'm not sure why not. I always enjoy a little adventure and exercise disguised as fun! This visit I partook in bike tour with Ca Roule Montreal through some of Montreal's lesser known neighborhoods. It was fantastic to be able to bike primarily along the city's bike path to discover different parts of Montreal. We had an amazing tour guide, Ruby, who shared much of Montreal's history – old and new. Our halfway point was stopping at the Atwater Market, which I adored. It's always a feast for the eyes and the stomach to go to the local markets in destinations.
DRINK
Given that this was my summertime visit to Montreal, I just had to take part in what is a big deal in their culture – the patio/terrace season. My favorite happy hour spot was Terrasses Nelligan. Not only was the sangria FAB but the scene was jumping and its rooftop location in Old Montreal made it perfect to view the beautiful scenery all around.
DINE
Located in the trendy Mile-End neighborhood, Nouveau Palais is an old-timey feeling diner that serves delicious fare to the hipster crowd. They also feature a classic cocktail list that isn't too shabby either. I opted for my often go-to Negroni cocktail and had their famous burger. I wasn't disappointed by either.
I was invited by Montreal Tourism to come enjoy #MTLmoments in the summer. MERCI for arranging the wonderful itinerary, hip stay at St-Martin Hotel, yummy dinner at Nouveau Palais and the super fun bike tour with Ca Roule Montreal. Once again, Montreal proves to be very 'Lola Approved'!