gettin' horsey in the land of saints & scholars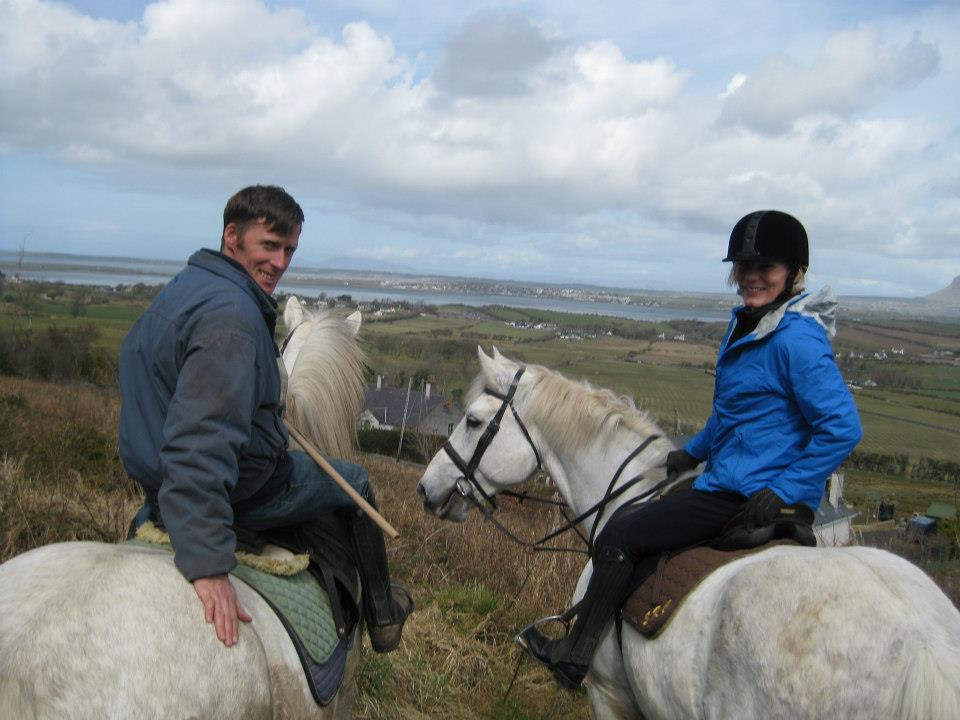 I am half-heartedly contributing an entry to Lola's blog because I don't want to advertise Sligo, Ireland, a gem on the Northwest coast. I want to come back every year and not see busloads of tourists in walking sneakers. At Dublin airport, I want to wish them safe travels to Killarney and Waterford while I head north to another amazing adventure in Sligo.
My daughter, Kat, and I joined two friends on a horse-back riding trip out of Declan McGarry's handsome stables in Carrowmore, just 3km outside of Sligo (Sligo Riding Centre). Of course we were excited about the trip, but this was one of those amazing times when the experience far surpassed the expectations. We organized the trip through Equitours. They were easy to deal with and quick to answer all questions. Our contact was Biggi, and just for the record she is not a large rapper like I pictured but a German lady. Oops…
FLYING AND STAYING
My only complaint lies with Aer Lingus. The ground crew was lovely but the flight attendants…Ugh. As soon as we entered international air space, the Irish charm was left in the galley. I am not exaggerating when I tell you they sprinted by with coffee and tea. When I did flag them down, they were curt and grouchy. Yikes. $900 a ticket and I had to sit in a seat made from rocks designed for very tiny people and beg for tea. Thankfully, all that was erased by Michael (our ground transport provided by the tour), who met us at Dublin airport and drove us the 2 ½ hours to Sligo, filling the time with story after story. What a hoot. There is also a train from Dublin. Michael  brought us to the Glasshouse hotel in the heart of Sligo, a good size town with shopping, pubs, an art scene, restaurants and a Tesco's with an awesome candy aisle (Yes, I spent 60 euros on candy and it was decimated within a week of getting home).
The Glasshouse is a modern hotel on the Garavogue River, the shortest river in Europe (fun fact). Our room was clean & comfortable with a river and town view. The staff was super friendly and chatty, there was a busy restaurant & bar scene, and most importantly to me, our room included a free, delicious, giant breakfast.
EATING AND DRINKING
The first night in Sligo, in a sleepless stupor, Kat and I stumbled into a local pub with musicians playing in the window and of course, Guinness on tap! By the end of the week, the very cute bartender Art (Kat's observation) just pulled Guinness when we walked in. So much fun in McGarrigles! We chatted the night away every time we went. Sligo also had a great Tapas place, A Casa Mia, as well as a myriad of pubs and nightclubs.
There was always music and beer to be found. Everywhere we went, we were told great local places to go, to see, to do. We were never led astray or felt like we were on some well-trodden tourist trail, ready to come home with shamrock tea towels and faux Irish caps.
RIDING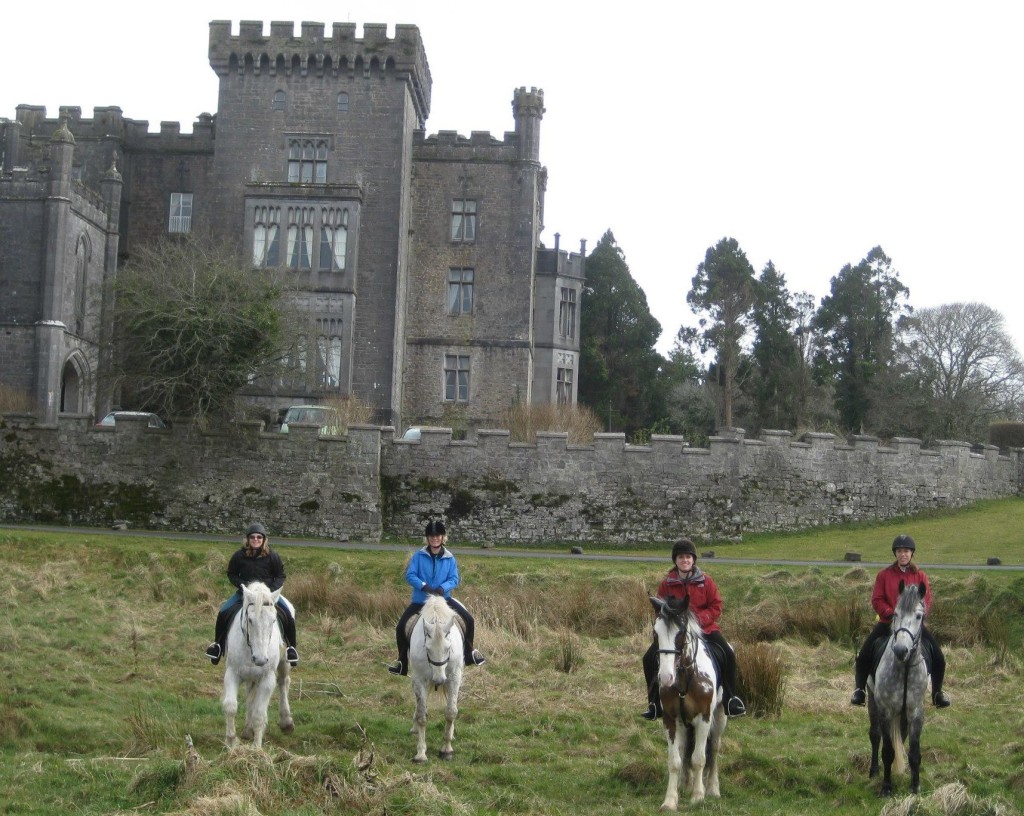 To the best part – the RIDING. Is it the laid back manners or the clean air or the Guinness? All the men we encountered were swell. Eugene was our patient guide for the week. He was not a man of many words but his droll comments were worth waiting for.
We rode the same well-cared for and sturdy horses over hill and dale, through forests to a castle, up and down Knocknarea (holy hell), through fields, roads and miles of beach. You shouldn't take this tour without riding experience and some fitness. We spent 3-5 hours a day in the saddle. I never had much of a booty, but I have worn away what little I had! Our group was the 4 of us but it was the first trail of the season. They run April-October and can have as many as 8 singles or 12 in a group that knows each other.
The only time we saw other Americans was on the Wednesday when we rode to Markree Castle.
We spent the morning in a monolithic cemetery, across from the stables, where we encountered an American group of women on a mystical, historical tour (aka goddess tour). They were so nice and the ancient cemetery was fascinating but we left them divining for water (not joking) and rode to Markree Castle. We stayed the night at the Castle and stabled our horses in its facilities. So swanky!  Staying was extra $, but being a frugal traveler, my daughter and I booked our room online, shared a bed and ate in the pub. Our friends went highbrow and booked through Equitours, ate a fantastic  3 course dinner in the dining room and had their own beds. Both options included breakfast (of course). Either way, well worth the money! (We met some Americans in the pub who were traveling on a Living Social tour and were really happy with it – just an aside.) Johnny Cash stayed at Markree and you can request his room.  The nice Irish ladies staying in it let me see it, so cool but not very different from all the others, just bigger.
SURFING AND SOAKING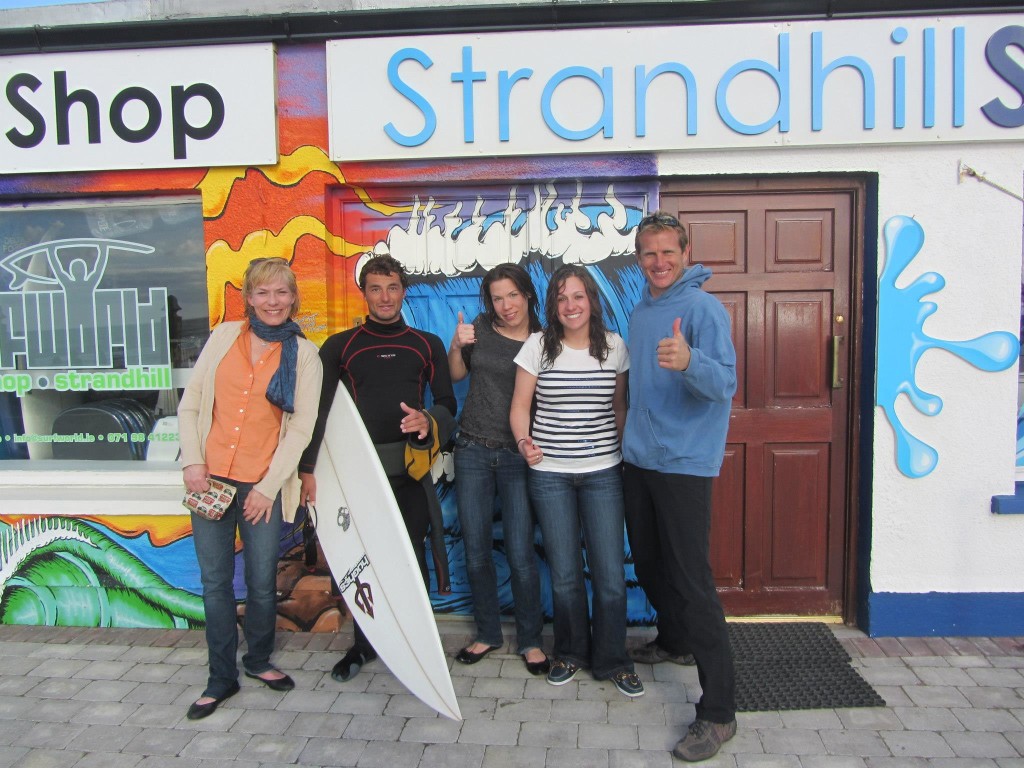 Declan McGarry, owner, was the" host with the most" and organized anything we mentioned. We, and the horses, had Friday off. We spent the morning with Michael tearing around the countryside in the van, seeing amazing bits of County Sligo. It is Yeats country for you intellectuals. More stories from Michael…fantastic! In the afternoon, we went to Strandhill, a little coastal village near Sligo. We SURFED with Strandhill Surfschool!! I am telling you the truth when I say a living, breathing Ken doll (real name Paul) greeted us with an endearing New Zealand "hello." There is amazing surfing in the area and "nothing to eat you." SO MUCH FUN! We had lots of distractingly adorable instructors in the water with us, 2 ½ hours for 30 euros (20 for us because Declan organized it and I think because it was April). We all got up and some of us (not me) actually surfed. After an amazing afternoon, we walked out of the water into Voya and a detoxifying seaweed saltwater bath – odd, but we definitely felt better after it.
THE END
Our final day of riding was spent on the beaches. It could not have been more beautiful or amazing. We rode back to Strandhill and tethered our horses outside the Strandhill pub for lunch. It was like a movie. Paul (surfer) came over to see the horses and then we mounted up for the final ride back to the stables. Saturday night we met Declan again at a local nightclub where everyone was dancing, no matter the age. The girls definitely dress up, think Real Housewives of Orange County. I have to comment on the fact that 80's music is huge and I heard 9-5, Grease and Footloose tunes. No one thought it was odd. Anyway, Declan McGarry facilitated everything, including surfing and the seaweed bath, during the week. We didn't have to think of thing. I would love to go back and do the whole thing again! Sligo County has so much to offer even if you don't want to ride. There are amazing golf courses (I was told), surfing, hiking, fishing, touring, eating, drinking, music, and arts. Next year, Declan is putting together a shorter ride/surf package. I'M THERE! Secretly, I hope you are not. Not surprisingly, all the business owners did not care for my selfish attitude. Because of Sligo's proximity to Northern Ireland, it was not a common tourist destination in the past. Now, it is trying to build the industry. Boo-hoo but fair enough. Forget the Blarney Stone…go north to Sligo.
Guest Post Author, Ruth Collins, is a dear friend of Lola's who really enjoys traveling as well as living abroad. When I heard about Ruth's plans for her Ireland trip I asked if she'd consider writing a guest post. I'm so happy she agreed as I think this adventure is something many would be interested in learning more about and possibly partaking in at some point in the future (like me!!).
Thank you Ruth – you are a star!! XO – Lola