Anyone who says constant traveling is easy is lying. Clearly, I love it and maybe it's partially because of the challenge of it all. Even the little things can be difficult. Packing strategies, airport security, jet lag, traveling to an unknown place. But the reward for the stress of these types of things is so much greater. AND even if I choose to showcase the more glam and fun side of things, there are a few travel confessions I have that I think may surprise you.
Sometimes I take the bus to NYC. This is the way I used to travel in my more frugal of days but in this past year I have rediscovered the bus and why it really is a better deal than flying or taking the train. First of all it is cheaper but, bottom line, it's also more reliable time-wise and the wifi kicks ass.
Even though I tend to stay in luxury accommodations, I think hotel slippers and robes are a waste. In fact, I really dislike pajamas too. Oh, and TVs in the bathroom are dumb. One TV is really more than enough.
This fall I had a super glam day in LA where I got my hair and make up done and styled in high fashion for a photo shoot. It was awesome. BUT one thing you don't know about this starlet day of mine is that my hair on fire during the photo shoot. See those darling candles on the wall in the background of this photo. YEP, they torched up a chunk of Lola's hair. And that dude at the bar in the background smacked the flames out.
I travel with a clothesline and often do my laundry on the road. If I'm gone for just a few days or maybe even a week, I won't bother. But, if it's longer than that, a few things have got to be washed. AND, I think I do a better job than most washing machines, to be honest.
I'm excellent at reading old-fashioned maps but have an actual terrible sense of direction. Like if I say go left, you should go right…unless I have a map in my hand. Even GPS systems throw me. True story.
I do try to look my best on and off the road but, in order to save time, I often don't wash my hair for days. And even though I do shower, I don't wash off my eye makeup and just continue to pile on the mascara. It may sound gross but I ask you, would you know if I didn't tell you? Case in point, in this photo above it was day 4 for my hair. Yes, I did hop in a pool in Miami, which probably helped with it not looking *as* dirty. I'm THAT glamorous.
Unless I have dinner plans, I'm terrible about eating on the road and often end up wanting Mexican food in the middle of the night, which really isn't easy to find in most places. In fact, I usually don't eat bad fast food but, in the span of 2 weeks, I ate McDonald's twice this fall. I hadn't eaten McDonald's in like 4 years!
Wax museums freak me out and I really don't know what purpose they serve. THAT IS ALL.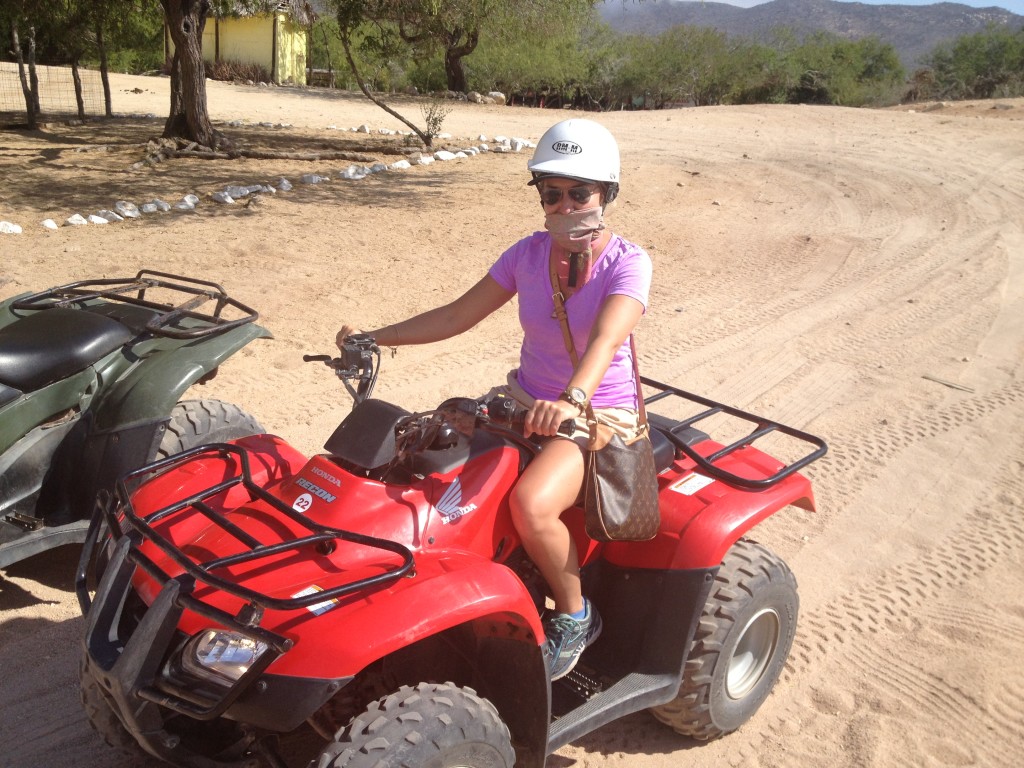 My favorite pricey purchase from my Eurotour last year turns up in the most unlikely of places but then, when I think about this luxury handbag and its original intended purpose, I think it's very apropos that it has gotten soaked on a yacht and gone ATVing through the desert. Louis Vuitton is waterproof and meant to be rugged. I know because I've put it to the test

Which of these confessions shocks you the most? Maybe none of them because you also don't wash your hair to the point of baby dreads and can get lost in your own hometown.