In the upcoming weeks you are going to see Lola partnering up with more fashion and lifestyle brands. Why? Because it makes sense with travel. I mean, don't you think about and use ALL KINDS of products before, during and after travel? Yeah, that's what I thought. And, let's face it, some are better than others for the traveler.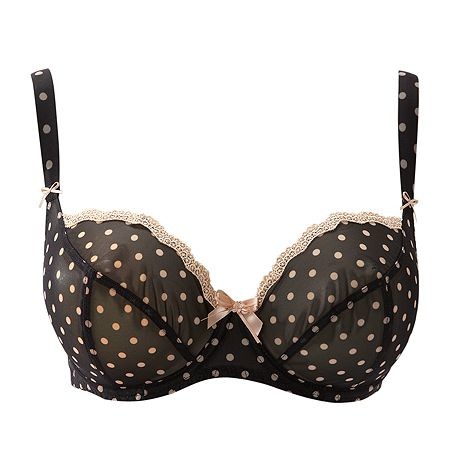 Inspired by the idea of traveling light, practically but always fashionable, I give you the Freya Patsy Black underwire bra and matching thong found on Clara-Olivia. I love this set for several reasons. One, it's just adorable. A bit retro and definitely sexy, Freya's Patsy is also comfortable. Two, I like that I can wear this set with a t-shirt and shorts, dress or jeans. It's simple enough not to get in the way of any outfit. Three, we ladies know how important it is to try to keep our packing to a minimum.
BUT what I really like about the Freya Patsy set is that it IS lingerie. So it's a twofer. What I mean is it's practical for everyday wear but is also a little hot number. I cannot stand the whole I have to dash off to change into something "more comfortable". First of all that totally breaks any mood and spontaneity but also, I'm not gonna lie, A LOT of lingerie is NOT "more comfortable".
Finally, as a self-confessed panty addict, I know quality. The Freya Pasty bra is priced at $48 and matching thong at $22.50. I think that's a fabulous value for the quality of this set! Oh, and, if that's not enough incentive to check out Clara-Olivia's collections, I can offer you 15% off your purchase plus free worldwide delivery for anything on their site.
Use my code

LAUREN15

– Valid until July 31st 

Where would you wear your new Clara-Olivia lingerie set? I think mine looks like a night in NYC with a cocktail at a speakeasy, no?!
More about Clara-Olivia
Clara-Olivia is your one stop shop for all your lingerie and swimwear needs specializing in B to K cup women. They stock many well-known brands with one of their most sought after lines being the Freya collection. The collection consists of Freya swimwear and Freya bra & panty sets as well as many other individual items that can be purchased by themselves. Freya lingerie is famous because of the way it fits a woman's body perfectly while looking amazing.
Although I was gifted the Freya Pasty set, I couldn't agree more about the fit!