Aruba, Jamaica oooh I wanna take you… You know how the song goes. I wanna take you on a little quick trip to Jamaica with me. I love the Caribbean and decided this year I needed to see a bit more of it. So, on a snowy weekend in New England, I looked for the best deal I could find to get down to the Caribbean in March. Jamaica was the lucky winner and BOY I am so glad. I had always been curious about Jamaica but it wasn't at the top of my must-see Caribbean islands. Now that I've been I'm really am not sure why that was. It is the perfect place for me. There you can find a little bit posh and a little bit rough around the edges – my favorite sort of destination. Here are six discoveries I had about Jamaica.
Beauty
Jamaica has stunning beauty. I stayed at a small boutique resort on Negril's famous Seven Mile Beach. The beach was sugar white, soft and clean and walking into the ocean was like walking into a bathtub of clear blue water that was the perfect temperature. You can literally see the sandy bottom for feet and feet. Everything I could want water sport wise was offered on this beach. OH and being located on the western part of Jamaica, the sunsets were right in front of me every night. It couldn't have been more beautiful.
Safety
Safety is something you hear about in Jamaica. I may have lucked out in choosing Negril because safety was never an issue. I would venture to guess it's become a bit safer in general in Jamaica but you can find problem areas (just like any country) still for sure. Sandy Haven Resort was a gated property and, in addition, they had security on the beachfront too. Apparently this is not a common thing on Seven Mile Beach and I learned that this was a nice thing to have. While I definitely enjoyed the locals pedaling their wares during the day on the beach, they weren't permitted to come onto the property so I never felt pressured or harassed. Also, any time I took a taxi service from the property, they asked when to return to pick me up so I never had to be concerned with finding another taxi and they always showed up on time!
Poverty
Another thing you know exists in Jamaica is poverty. You cannot help but see it when driving from the airport to Negril. And, since this is Jamaica's reality, why wouldn't you wish to see it? But by being a tourist and especially not staying at an all-inclusive, you can get out and support local businesses. Buying handcrafts and locally produced food at small food stands keeps the economy going. Also, you can support different charities if you so choose. I found a charity in Negril, Rockhouse Foundation, that educates local children and I brought a collection of children's books from the states to donate to them.
Friendliness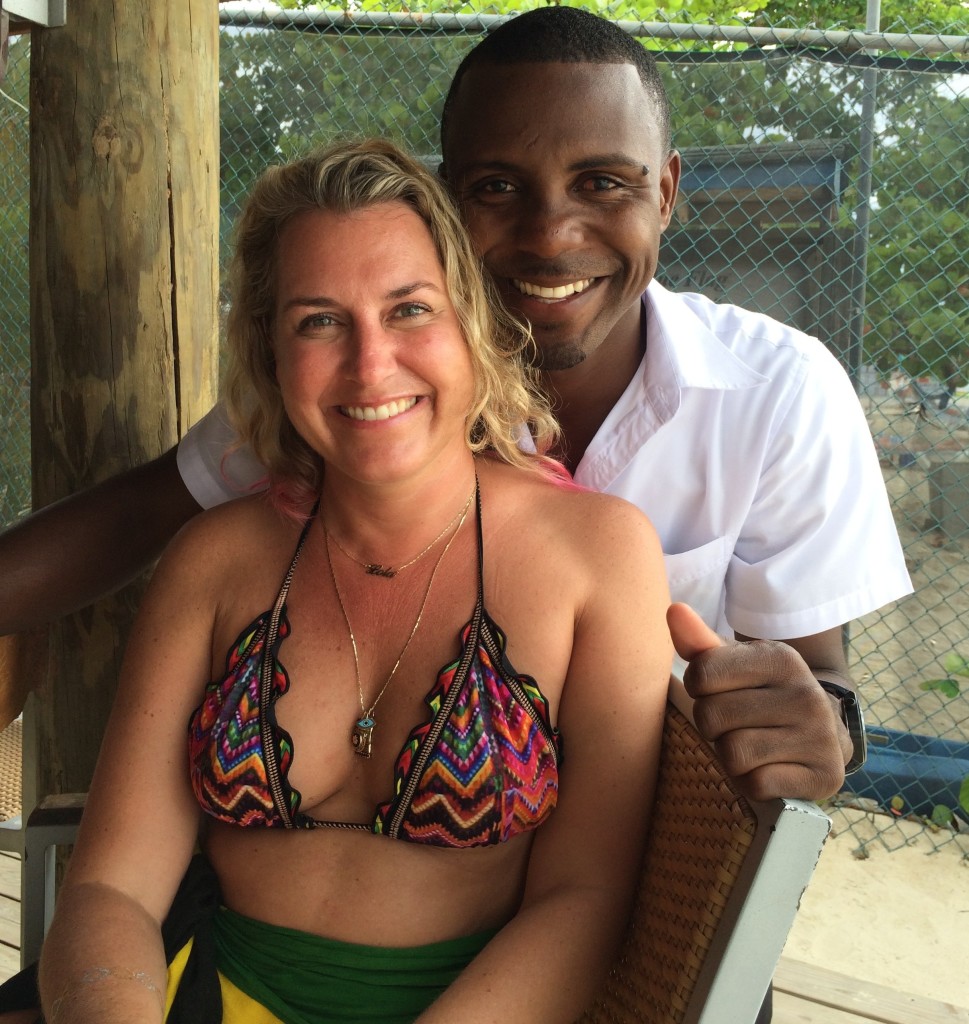 I always heard that Jamaicans are friendly but I now think this is an understatement. I'm not sure if I've ever been somewhere more friendly EVER. From Antonio Airport Transfers that shuttled me from Montego Bay Airport, to the amazing staff at Sandy Haven, to the on-property taxi service – Kenny Tours, I was blown away. Even fellow tourists were unbelievably friendly which I attribute to the Jamaican culture being so friendly it attracts friendly travelers. Veteran Jamaica goers were thrilled to share where to go and what to eat to get the best of what Jamaica is known for in Negril. Meeting locals at the market stands was an amazing experience too. So grateful for the business. Shaking your hand and introducing themselves. Giving small gifts as a token of gratitude.
Pride and Character
From the moment I got into the initial car service to Negril, pride and character was oozing from Jamaicans. People are proud of their country. And, they want to tell you about it, have you experience it and thank you for coming. They are proud of their "don't worry be happy" attitude, their country's past and freedom, and Jamaica's overall beauty. Even the beach peddlers were full of pride and character. For me, this was a huge source of culture and entertainment. You can learn a lot about the culture just from watching at a distance from your beach lounger. What do Jamaicans eat and drink. Where is the party that the locals will be going to that evening. Even what Jamaicans wear!
Costs
Jamaica is a relatively inexpensive place to visit. I found a package deal through an airline for my plane ticket and hotel. After seeing other options in Negril, I think I found one of the best out there. I loved Sandy Haven Resort and would definitely stay there again. Continental breakfast was included in the rate but I wasn't shy about eating and drinking whatever I felt like during my stay and at the end of my short visit my balance was surprisingly minimal. You could find comfort food or Jamaican food on their menu – so that was also great. Given that it wasn't an all-inclusive, I set off to find other places to eat and drink. Niah's patties on Seven Mile Beach are a Jamaican specialty and cost $6 US. Treehouse was another spot that had delicious Jamaican jerk chicken. Finding small roadside stands for drinks was a fun and cheap option as well. The most expensive spot I checked out was Rick's Cafe in the West End. Even though it's touristy it really should not be missed. The cliff diving is incredible and the sunset is gorgeous from this spot. You can even walk over to the lighthouse found there and tour it.
I will definitely return to Jamaica and Negril. Next time I will spend a little more time there and explore the West End further. Rockhouse Hotel looks like a fantastic property. I would like to volunteer with their foundation as well next visit. And I am going to most certainly make it to one of the coolest looking bars I've ever seen – the Pelican Bar. Now that I know how safe, friendly and affordable Jamaica is, you cannot keep me away. PS – they take US dollars there and really actually prefer it.